The sheer scale of token scale activity continues to expand, seemingly unabated. To get some sense of just how fast this space is growing, popular cryptocurrency website CoinDesk analysed data from 2014 through July 2017 and found that blockchain start-ups have managed to raise a total of $1.67 billion via token sales; most astonishingly, however, was that $1.38 billion of this total was raised in 2017 alone, and thus represents over 600% growth year-on-year.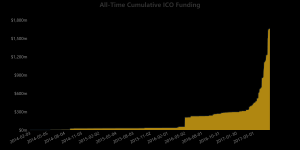 And that growth rate looks set to continue accelerating, especially given that July has raised over $540 million, which makes it the best month on record, as well as the third consecutive month in which a new record has been set. Although blockchain companies have raised slightly more through venture capital firms during this period (nearly $1.8 billion), at current growth rates the amount raised from token sales will overtake the amount raised from venture capital by the end of this month. Indeed, blockchain projects raised nearly $800 million through token sales in the second quarter, which comprehensively outshines the $241.3 million provided by venture capital firms.
Is there anything that can slow this growth down? Possibly. We saw last week a major development take place when the US Securities & Exchange Commission (SEC) decided to rule that DAO tokens constitute a "security" and should be regulated under existing securities law. This may make some token issuers think again about hosting token sale events in the US, or about dealing with US citizens. That being said, there appears to be no sense of token sale activity cooling down thus far. On the contrary, there are about 120 upcoming or active token distribution events currently in the diary for 2017, and importantly, about 20 have been announced since the SEC's decision. This would suggest that, there appears to be little stopping blockchain firms from creating new token events.
Perhaps more token sales in the future will simply follow the example of Filecoin, which last week raised $52 million in a pre-sale offering. Filecoin claims to be an SEC compliant token sale, and has an extensive list of supportive documents for regulatory authorities to investigate if required, including its white paper and a "Private Placement Memorandum to Simple Agreement for Future Tokens". Filecoin's tokens will also only be sold to accredited investors, such as investment firms, banks, and high net worth individuals, while each investor is required to complete a questionnaire in order to participate in the token sale. Of course, such an arrangement prevents the majority of regular cryptocurrency investors from taking part, which goes against the spirit of token sales and their typically inclusive nature to date. Nevertheless, solutions will hopefully continue to be sought that enables regulatory compliance and allows for a diversity of funding sources.
It should also be mentioned that it is not only the US which has recently sought to provide clarification on token regulation. Last week, the Monetary Authority of Singapore provided its own views on token sales, and comes in the wake of recent growth in the number of token sales in Singapore. Indeed, with the likes of with the likes of TenX, Golem and Qtum having hosted some of the world's biggest offerings to date in the country, it has managed to gain a reputation for being a hotspot for token sales. As such, the MAS has looked more closely into the space, and has decided that the offer or issue of digital tokens in Singapore will be regulated by MAS if the digital tokens constitute products regulated under the Securities and Futures Act (SFA). Much like the SEC, therefore, it seems that it would regulate some token sales, but not necessarily all. The main takeaway point seems to be that any entity considering an ICO involving Singapore in some capacity should seek independent legal advice to ensure they comply with all applicable laws, and consult MAS where appropriate. Again, this should be perceived as a positive development, as it provides rules and legitimacy to token offerings, something that will enable more risk-averse investors to participate in the space.
There is also likely to be significant development in the way token sales can be assessed for their legitimacy, which in itself will provide greater protection for investors, irrespective of regulations that may or may not be implemented. Indeed, the "ICO Transparency Monitor" was launched last week by Neufund, a Blockchain-based and investor-directed platform that aims to bridges the Blockchain and venture capital worlds. The Monitor is described as a powerful toolkit, one that evaluates token sales and other token events by assessing specific metrics of the offering, such as the past, present and future fundraising actions of the issuing company. The calculated scores will then allow investors to make more well-informed judgements over whether a specific token sale should be classed as "transparent", "transparent with issues", or "non-transparent". Clearly if such a project operates successfully as described, it will remove some of the transparency issues that give rise to investor apprehension.
One particular token sale event announcement during the week caught the eye. It was revealed on Thursday that John Mack, the former CEO of US banking giant Morgan Stanley, will be taking the plunge into token sales by soon launching his own offering. This marks another major scoop for the cryptocurrency world, as it manages to convince yet another heavyweight name from the investment banking world to take the leap. Mack's project is Omega One, which is described as being "the bridge between traditional capital markets and the crypto markets" – the idea being to offer cryptocurrency investments to potential customers in a similar manner to that of traditional assets. Mack has been highly effusive is his praise of cryptocurrencies,
"I have been watching and investing in the cryptocurrency market over the last several years, and I find Omega One to be an important next step in the emergence of this new economy"
were his recent thoughts. According to recent reports, moreover, Mack is aiming to raise a whopping $950 million from the token sale which, if true, would dwarf anything that has come before it.