Legendary businessman, tech-genius, entrepreneur, investor and cryptocurrency-enthusiast, John McAfee, recently announced via Twitter, that he will launch his own coin, which will be called "Fiat".
"No hoax. The "McAfee Redemption Unit" is real and coming in 26 days. The graphic is low res – don't want to give much away yet. Printed on currency paper, holographs on both sides, serialized, linked to the blockchain, redeemable, convertible, collectible"
A curious fact is that the tickets can be exchanged in a private, face-to-face meeting with
McAfee himself, in person, in Mexico. The exchange method is briefly explained on the
back of each of the tickets:
"Please, go to the office between 1PM and 3PM, located in Rinconada de Los Caracoles 109, department 01, Conchas Chinas – Puerto Vallarta".
According to what is being reported, it was determined that a "McAfee" (Of his new currency) will be equivalent to a one minute meeting, and each interested party will be limited to 100 tickets per session, at most. Many enthusiasts have shown their support for the new project. However, some have concerns about the launch.
Among the questions that could be asked are:
     "What is the use of printing a new currency in cash, when what they want is to get rid         of it?"
To which McAfee responded,
"Patience, you will see. You only get to see the shadow of everything I'm doing."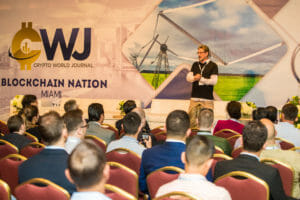 Will McAfee be able to launch a coin supported by crypto-actives successfully, or is it just another experiment?
You can watch the McAfee conference at the Blockchain Nation Miami, which took place on April 25 th & 26th at:
     Crypto World Journal – Youtube
     https://www.youtube.com/watch?v=8-AirSCMa18
by Samuel Paz