Crypto World Journal is proud to announce that Andrew "Flip" Filipowski will be a featured speaker at their upcoming event, Blockchain Nation!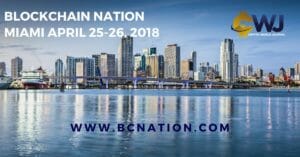 Mr. Filipowski is one of the world's most successful high-tech entrepreneurs, philanthropists and industry visionaries.  Mr. Filipowski serves as Co-founder and Co-CEO of Fluree, where he seeks to bring blockchain capabilities to enterprise applications with
FlureeDB — a practical and scalable blockchain database solution.
Mr. Filipowski also serves as co-founder, chairman and chief executive officer of SilkRoad Equity, a global private investment firm, as well as the co-founder, of Tally Capital.
Mr. Filipowski was the former COO of Cullinet, the largest software company of the 1980's. Mr. Filipowski founded and served as Chairman and CEO of PLATINUM technology, where he grew PLATINUM into the 8th largest software company in the world at the time of its sale to Computer Associates for $4 billion – the largest such transaction for a software company at the time. Upside Magazine named Mr. Filipowski one of the Top 100 Most Influential People in Information Technology. A recipient of Entrepreneur of
the Year Awards from both Ernst & Young and Merrill Lynch, Mr. Filipowski has also been awarded the Young President's Organization Legacy Award and the Anti-Defamation League's Torch of Liberty award for his work fighting hate on the Internet.
Mr. Filipowski is or has been a founder, director or executive of various companies, including: Fuel 50, Veriblock, MissionMode, Onramp Branding, House of Blues, Blue Rhino Littermaid and dozens of other recognized enterprises.
Blockchain Nation will take place on April 25th and 26th at the Kovens Conference Center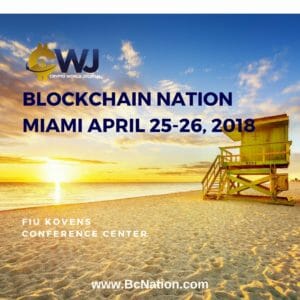 (3000 Northeast 151st Street, North Miami, FL, United States), and feature speakers such as: famed investor, Jim Rogers; Frank Abagnale Jr. from "Catch Me if you Can"; investor and executive, Andrew "Flip" Filipowski; Ronnie Moas of Standpoint Research and more.  Blockchain Nation will also feature key government officials, top industry attorneys and top industry influencers and professionals.  Blockchain Nation  is expecting 3,000 guests as well as 75 speakers from around the world and the event will be covered by major media outlets such as Bloomberg, Times, NBC and CNBC.
Valuable information
Blockchain Nation will not only be a great way to relax and enjoy amazing speakers with a beautiful, 180° view of Biscayne Bay, but it will also be jam packed with valuable blockchain education, including: high profile speakers, government panels, and intimate, classroom-style, educational events.  The topics discussed will include: blockchain use; cyber security; compliance and regulation; entrepreneurship and innovation; global investment strategies, techniques and expectations; blockchain application to renewable energy; big data analytics; artificial intelligence; blockchain technology trends; cryptocurrencies; ICOs; opportunities for real estate; and logistics.  There will be both large audience presentations as well as simultaneous breakout sessions where attendees will be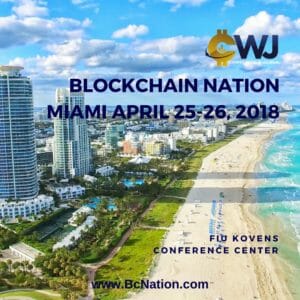 able to have the opportunity to dive into specific topics in a more intimate setting.
Don't forget to purchase a VIP ticket, for exclusive access to speakers and a special VIP dinner!
The organizer of the event is Crypto World Journal – Committed to "Building a Better Blockchain Community" through valuable education, networking and credible and relevant industry news.
For more information and to purchase your ticket, please go to www.BCnation.com.