Crypto World Journal is proud to announce that Pratin Vallabhaneni will be a featured speaker at their upcoming event, Blockchain Nation!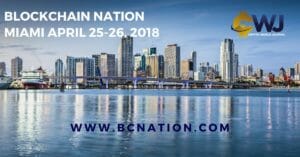 Pratin Vallabhaneni advises clients on a broad range of corporate and finance transactions and financial regulatory matters. He regularly advises both US and non-US companies across a variety of sectors. He has particular expertise in advising firms that operate in or hold exposure to the financial services sector.
Mr. Vallabhaneni's corporate and finance practice focuses on public and private M&A, capital raising, bank finance, commercial agreements, and activism matters. Prior to joining the firm Mr. Vallabhaneni was an investment banker at Morgan Stanley where he advised clients on valuation and execution of M&A, capital markets, bank finance, securitization, activism defense, and restructuring mandates. He also worked on M&A and financing transactions at a boutique energy and infrastructure investment bank.
Blockchain Nation will take place on April 25th and 26th at the Kovens Conference Center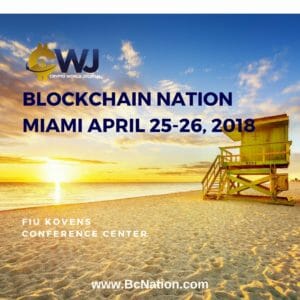 (3000 Northeast 151st Street, North Miami, FL, United States), and feature speakers such as: famed investor, Jim Rogers; Frank Abagnale Jr. from "Catch Me if you Can"; investor and executive, Andrew "Flip" Filipowski; Ronnie Moas of Standpoint Research and more.  Blockchain Nation will also feature key government officials, top industry attorneys and top industry influencers and professionals.  Blockchain Nation  is expecting 3,000 guests as well as 75 speakers from around the world and the event will be covered by major media outlets such as Bloomberg, Times, NBC and CNBC.
Valuable information
Blockchain Nation will not only be a great way to relax and enjoy amazing speakers with a beautiful, 180° view of Biscayne Bay, but it will also be jam packed with valuable blockchain education, including: high profile speakers, government panels, and intimate, classroom-style, educational events.  The topics discussed will include: blockchain use; cyber security; compliance and regulation; entrepreneurship and innovation; global investment strategies, techniques and expectations; blockchain application to renewable energy; big data analytics; artificial intelligence; blockchain technology trends; cryptocurrencies; ICOs; opportunities for real estate; and logistics.  There will be both large audience presentations as well as simultaneous breakout sessions where attendees will be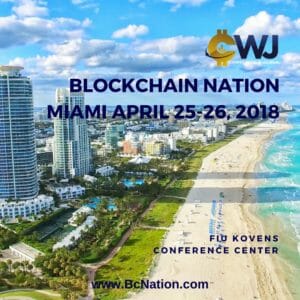 able to have the opportunity to dive into specific topics in a more intimate setting.
Don't forget to purchase a VIP ticket, for exclusive access to speakers and a special VIP dinner!
The organizer of the event is Crypto World Journal – Committed to "Building a Better Blockchain Community" through valuable education, networking and credible and relevant industry news.
For more information and to purchase your ticket, please go to www.BCnation.com.